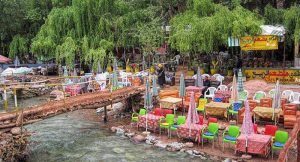 Start your Day trip to Ourika Valley at 09h00 am from your riad or hotel in Marrakech.
Take a short drive from Marrakech to the foothills of the Atlas Mountains. You will have the opportunity to explore a local Berber open market, mainly very busy on Mondays. From here, continue your drive along the valley of Ourika and pass through successive mountain villages. As you go up the hills, you will be stopped by various wonderful landscapes.
Your first stop will be in a traditional Berber family's house living in the valley. You will be treated to a delicious local breakfast consisting of tea, bread, and olive oil.
After that, we carry on with our tour towards Setti Fatma, a favorite weekend destination for many Moroccans thanks to its lush green valleys, beautiful streams and waterfalls, cliffs and open spaces. You will hike all the way up to the first waterfall accompanied by your guide.
Following that, you will go back for lunch in a local café next to the stream with a stunning view over the mountains. Along the way, you will get to visit a region that still uses a medieval agricultural tradition. You will be able to take pictures of green terraces surrounding the Atlas Mountains while you are walking around the valley.
At around 04h00 pm, you will return to Marrakech where your Ourika tour will end.