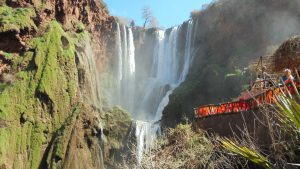 Our day trip Day Trip To Ouzoud Waterfalls starts with a 3-hour drive through the picturesque Atlas Mountains. The falls are located north of Marrakech, in the village of Tanaghmeilt, in the province of Azilal.
On our way to Ouzoud waterfalls, we will drive past vast fields of olive trees and as we get closer, the falls will become visible from the distance- this view alone is rather spectacular!
When we arrive to Ouzoud falls, you will notice that the walking paths extend up towards the falls and down around the water streams below. you can also go for a swim in the natural swimming pools of the Ouzoud Cascade, or if you are brave enough, you can join the locals and jump off the high cliffs into the water.
After a pleasant morning, join the rest of your group for a Moroccan lunch at your leisure in one of the local cafes or restaurants, situated in the sheltering bosom of the Ouzoud Falls.
Conclude your Marrakech to Ouzoud waterfalls day trip with a drive back to Marrakech, where our driver will drop you off at your hotel or riad.